Webinar: Overcoming Sermon Block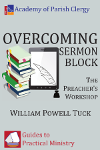 William Powell Tuck will be joined by Bob Cornwall, David Moffett-Moore, and Doug Dortch as they discuss his new book Overcoming Sermon Block. This webinar will last one hour and we will be accepting audience questions.
Don't forget our buy 2 get 1 free sale. This is the time to get your copies of Overcoming Sermon Block for use in your colleague group. Quantity discounts do apply even with the buy 2 get 1 free.