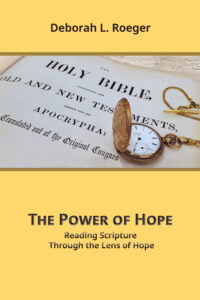 This week we're going to post a series of quotes and notes here from our authors regarding hope. Holy Week in the Christian calendar is a time both of expectation and trial, of hardship and hope. There is the joy of Palm Sunday which turns out to be temporary. The friendly crowd is nowhere to be seen come Good Friday. And the experience of Good Friday was certainly not good at the time. When we talk about the hope of the resurrection, that hope now comes from knowing the ending.
One key quote each day will be from The Power of Hope by Deborah L. Roeger. This is in an imprint produced by Energion Publications.
Today's quote from The Power of Hope is:
[B]iblical hope is like a strong rope composed of three essential interwoven strands: 1) hearing the promise made by the Promise Keeper, 2) the Promise Keeper's appointed time and 3) patient,
confident, expectant waiting. When these three components harmoniously work together, the outcome is a manifestation of what was promised.

Deborah L. Roeger, The Power of Hope, p. 33
For more information on publishing services, including production of an imprint for your project, ministry, or other organization, see below.
Quotes from Authors
This quote from Bruce Epperly draws from Paul and Silas's reaction to being imprisoned at Philippi. Yet Paul repeatedly talks about the faithfulness of God in a variety of circumstances.
Cling to Paul's affirmations and your life will be transformed. Remember your personal God-moments and you will find strength. You will face serious challenges and know that you are not alone.
You will be guided by love not fear and face what can't be changed when there is hope, knowing that in all things, God is with us. Whether we live or die, we belong to God and God hasn't lost anyone yet!

Bruce Epperly, Transforming Acts, p. 117
Again, drawing from Paul, Jody Neufeld talks about God's presence as it relates to hope.
Paul said he had "learned to be content whatever the circumstances" (Philippians 4:11). Do I think that Paul never felt the grief of the death of a loved one or never felt completely alone? Of course he did. But Paul also sought and asked for the presence of God to be so tangible in his life that his fears were removed and hope was always there.

Jody Neufeld, Daily Devotions of Ordinary People – Extraordinary God, January 16
And Edward W. H. Vick talks about the ultimate source of our ultimate hope.
The righteousness of God, i.e. his righteous doings, his saving, activity is a manifestation of what God is. The source of man's hope and fulfillment, of his salvation, lies in the fact that God is grace. God is grace.

Edward W. H. Vick, Justification by Grace Through Faith, p. 30