The Spirit's Fruit: A Participatory Study Guide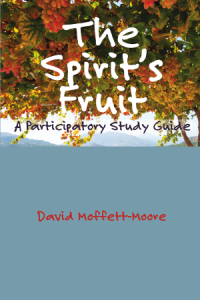 Energion Publications is pleased to announce the forthcoming release of a new volume in the Participatory Study Series. The Spirit's Fruit: A Participatory Study Guide, written by Dr. David Moffett-Moore, is the second of our guides that are topically oriented, though it is also a study of a biblical passage, Galatians 5:22-26.
This is an ideal study guide for small groups or Sunday School classes that want to combine serious study with spiritual growth. Don't forget our generous quantity discounts. It pays to buy direct from Energion.
David Moffett-Moore, APC is senior pastor of Portage United Church of Christ in Portage, MI. He has an MDiv degree from United Theological Seminary, a DMin from Chicago Theological Seminary, and a PhD from Graduate Theological Foundation. He is the author of Wind and Whirlwind: Being a Pastor in a Storm of Change, part of the Academy of Parish Clergy Conversations in Ministry series, Life as Pilgrimage: A View from Celtic Spirituality, and Creation in Contemporary Experience (forthcoming April, 2014).
He and his wife Becki have four grown children and two grandchildren.